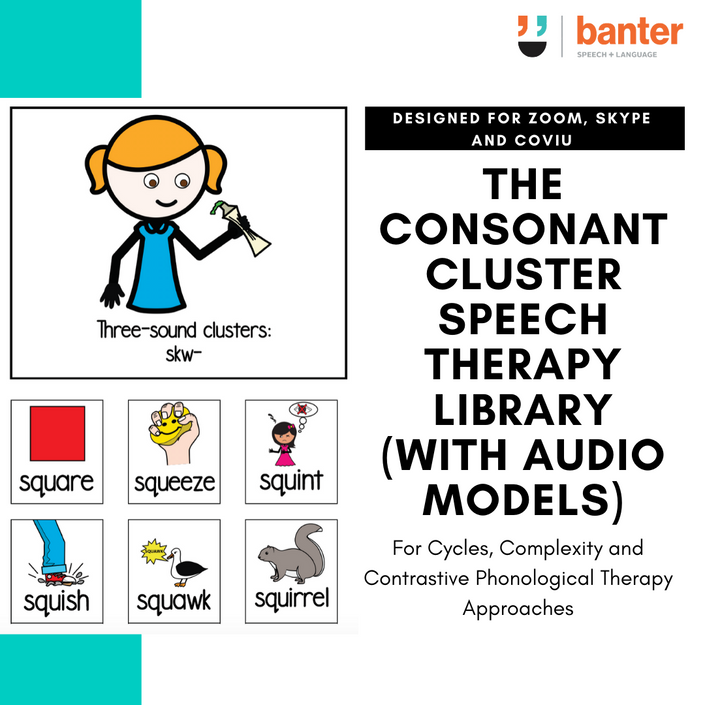 The Consonant Cluster Speech Therapy Library (with audio models)
For Cycles, Complexity and Constrastive Phonological Therapy Approaches. Designed for Zoom, Skype and Coviu.
Watch Video
Save time! Save your voice!

Deliver evidence-based speech therapy for kids by Telehealth, including by Zoom, Skype and Coviu.
Consonant Cluster Targets ordered from most complex to least complex using sonority differences. More than 120 pages of exercises, including:
high frequency, functional target words;
39 auditory bombardment files for each target cluster in mp3 format for easy download and to email to clients;
nonword, multisyllabic motor speech drills for each cluster, based on principles of motor learning; and
near minimal pairs, for adding contrastive treatments.
No preparation needed. Fully scripted, organised and ready for face-to-face and distance/remote/telehealth therapy sessions.
Keen to know more?
Traditional articulation and developmentally-based phonological approaches to therapy work. But they can be slow going! When working with students with significant speech sound problems, we want efficient results - especially if we don't have much face-to-face time to do therapy.

For children with moderate and severe phonological speech sound disorders, we use three main evidence-based approaches in our clinic:
Cycles; and

Complexity; and

Contrastive Approaches.
Both approaches seek to bring about permanent, big changes to a student's phonological system and to make students more intelligible. Both approaches rely on choosing good targets that transfer to other speech sounds without having to work on every speech sound in every word position.
Which sounds should we target?
Complexity theory tells us that some consonant sounds are more complex than others. For example:
Three sound clusters (like /spl/, /skw/ and /spr/) are more complex than two sound clusters (like /sl/ and /pr/).

So-called "small-sonority-difference clusters" like /sm/, /sn/ and /mj/ (as is "music") are more complex than "large-sonority-difference clusters" like /tw/, /kw/ and /pl/.

True consonant clusters (like /tw/, /pl/, /br/, and /fl/) are more complex than so-called "adjunct clusters" like /sp/, /st/ and /sk/.

True consonant clusters' like /pl/, /sw/ and /fr/ are more complex than affricates like "j" or "ch".

Affricates like "j" or "ch" are more complex than fricatives like /f/ or /s/.

Long, "hissy" sounds called "fricatives" (like /f/ and /s/) are more complex than short "stops" like /p/ and /t/.

Semi-vowel 'liquid' and glide sounds like /l/ and /r/ are more complex than sounds made through your nose, like /n/.
The key idea, here, is that speech pathologists should prioritise speech sound targets that:
are late-acquired developmentally;

are complex/marked (e.g. targeting fricatives rather than stops, true clusters rather single sounds, clusters with low sonority differences, rather than high (or negative) sonority differences);

the child doesn't know/cannot yet produce accurately; and

the child is not yet stimulable for.
Again, our goal is to produce big, system-wide changes as quickly as possible.
How many words should we target?
Taking our lead from Cycles, we focus on only 5-6 words per target, per session. Evidence shows that 5-6 exemplars is sufficient to get transfer to untreated words with the same target. It also means you don't waste time (and dosage) explaining lots of new (often weird) vocabulary to students - a big issue for students with working memory and language disorders and other issues.
What kind of words should we choose?
We've opted for a combination of high frequency, functional real words, mixed-vowel, multisyllablic non-words, and near minimal pairs. Where possible, we have taken our real words from a well-known corpus of high frequency words used in spoken English: the New General Service List. Our non-word drills are designed to practice the target with different vowels and word positions. With selected targets, we also provide practice doing minimal pairs.
High frequency, functional, real words to use in speech therapy following the Complexity Approach of Cycles
In this pack, we include complex targets, sorted from most to least complex. Yes, students need to have some motivation and resilience to give them a go. But we've found that working on complex targets - using either a Complexity or Cycles Approach - gives you much more "bang for your buck" than targeting early-developing single consonants in word initial, final and medial positions. In particular, we've found that working with complex targets often results in bigger improvements in a student's general intelligibility.
We know that some the targets in this pack may seem aggressive - especially if you are used to developmental and traditional approaches. But, since making our targets more complex in Cycles and Complexity-based therapy, we've haven't looked back, and wanted to share our resources with others!
Further information on how to do the therapy:
The Complexity Approach: https://www.banterspeech.com.au/how-to-treat-speech-sound-disorders-2-the-complexity-approach-more-bang-for-your-buck/
The Cycles Approach: https://www.banterspeech.com.au/how-to-treat-speech-sound-problems-1-the-cycles-approach/
The Contrastive Approach: https://www.banterspeech.com.au/how-to-treat-speech-sound-disorders-3-contrastive-approach-minimal-and-maximal-pairs-with-demo/
Your Instructor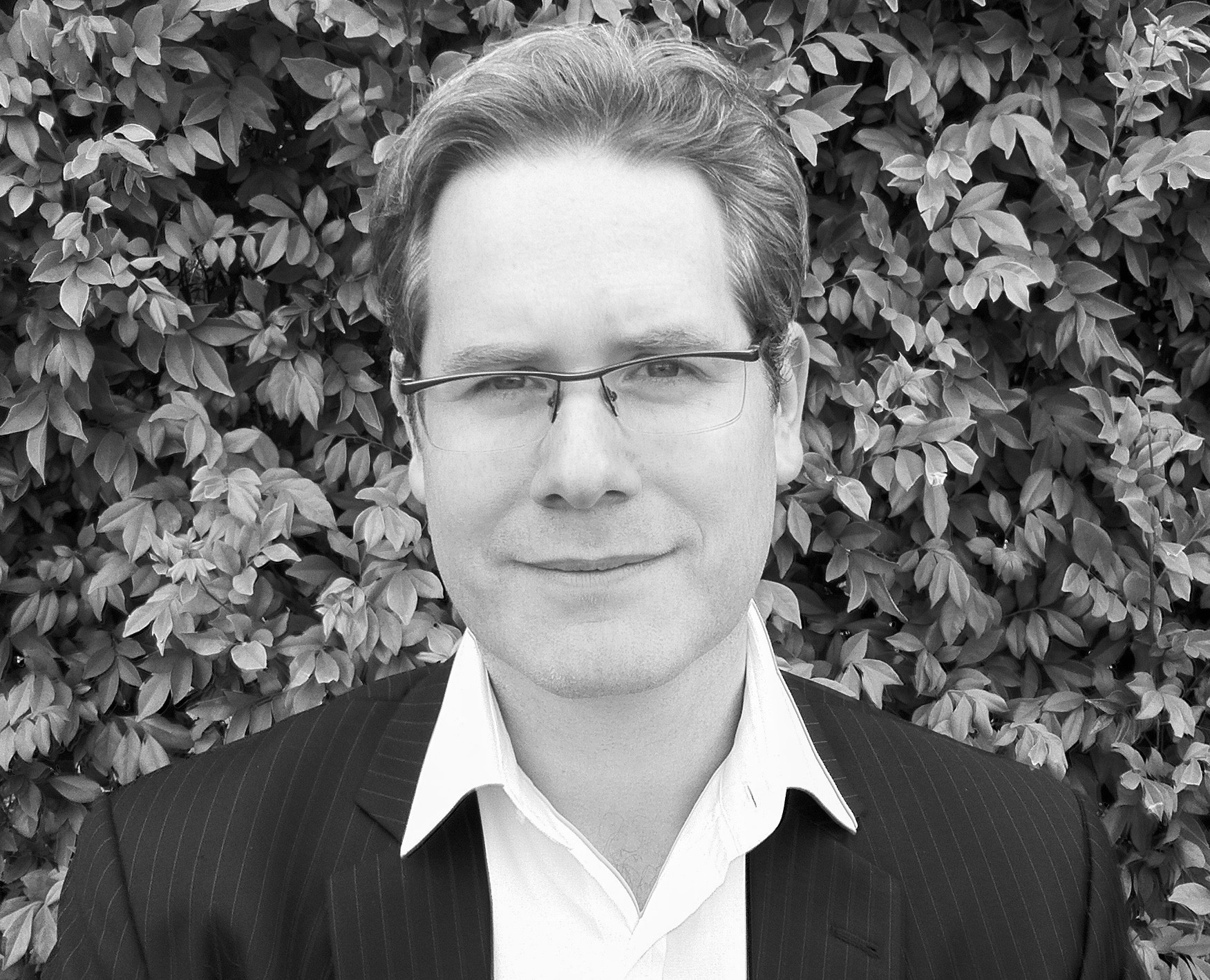 Known to many as Speech Bloke, David is a Certified Practising Speech Pathologist, Lawyer, Author and Father. He is based in Sydney, Australia, where he helps adults and children with communication issues to speak for themselves.
David manages a busy private speech pathology clinic, and a publishing company for speech pathologists in private practice. He is the founder of Banter Speech & Language, and Speechies in Business. He is passionate about ethical practices and consumer rights and regularly guest lectures to speech pathology students and others on legal issues affecting the profession.
David holds a Master of Speech Language Pathology from the University of Sydney, where he was a Dean's Scholar, ranking first in his graduating year. He is admitted as a Solicitor of the Supreme Court of New South Wales and the High Court of Hong Kong, and lived for 8 years in Hong Kong. David is a Certified PESL Instructor for accent modification. He is a Hanen- and LSVT LOUD-certified speech-language pathologist with post-graduate training in the PreLit early literacy preparation program by MultiLit, the Spalding Method for literacy, and Voicecraft for voice issues.
Prior to becoming a speech pathologist, David was a senior lawyer at a US Investment Bank and, before then, worked for global law firms in Hong Kong and Sydney. He knows what it takes to communicate professionally and to compete in a globalised workforce.
Course Curriculum
Consonant Cluster Exercises for 3-sounds clusters and 2-sound clusters with sonority differences of 2, 3, and 4
Available in days
days after you enrol
Sound files: Three Sound Consonant Clusters
Available in days
days after you enrol
Sound Files: Consonant Clusters with a sonority difference of 2
Available in days
days after you enrol
Frequently Asked Questions
When does the course start and finish?
The course starts now and never ends! It is a completely self-paced online course - you decide when you start and when you finish.
How long do I have access to the course?
How does lifetime access sound? After enrolling, you have unlimited access to this course for as long as you like - across any and all devices you own.
What if I am unhappy with the course?
We would never want you to be unhappy! If you are unsatisfied with your purchase, contact us in the first 30 days and we will give you a full refund. All the resources are downloadable from the moment of purchase, so we will need a professional undertaking you have deleted all copies of the files before we can process your refund.